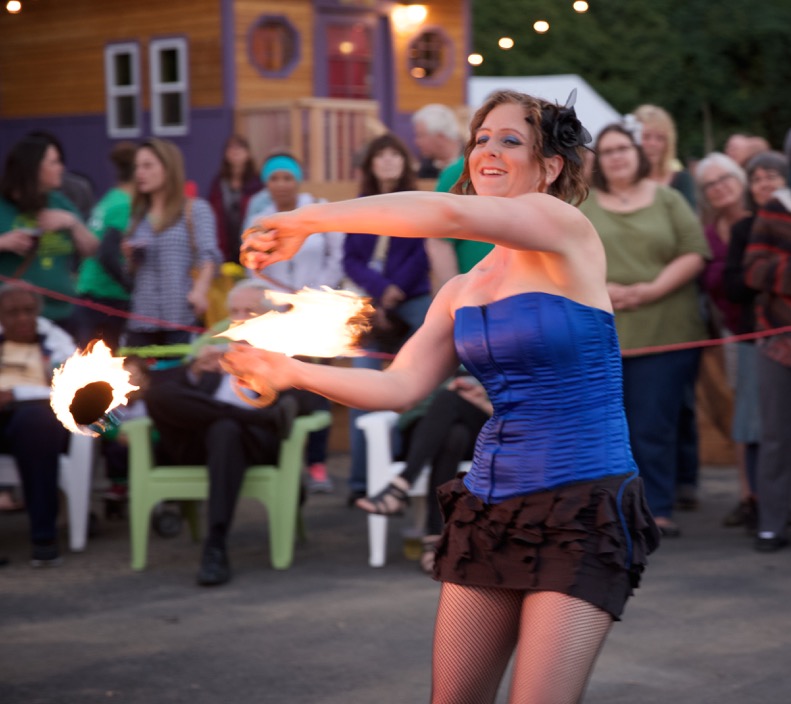 Shireen has pursued her lifelong interest in movement arts through training in yoga, dance, circus arts and aerial dance. She has been dancing with fire since 1999, and is known for her fluid style, innovative movements and mesmerizing performances. An accomplished teacher as well as performer, she has taught circus skills, object manipulation and aerial arts to students of all ages, come learn with Shireen!
I am originally from New Orleans, now living in the beautiful NW and I love teaching fitness stateside and internationally. The reason is simple: Every class/clinic/session feels like a party! I am a Certified Group Exercise Instructor, Fitness Nutrition Coach & Personal Trainer. With years in the fitness industry and dance, I am here to provide an energetic and fun experience.
Jose has over 50 years of teaching experience in Okinawan style Shotokan Karate. Hailing from Puerto Rico, he represented his country at the 5th World Traditional Karate Championship in Lima, Peru in 1990. He was also recognized at the Latin American Martial Arts Hall of Fame in 1997 and at the Karate Voice's Hall of Fame in 2001. He holds an International Instructor License from the International Martial Arts Federation of Japan. Following is a short list of some of his training accomplishments:
-Black Belt 8th Dan, Kyoshi Karatedo
-Black Belt 7th Dan, Kyoshi Okinawa Kobudo (Okinawan Weaponry)
-Black Belt 3rd Dan, Shidoin Nihon Jujutsu
-Chief Instructor United Alliance of Shoto Karatedo - UASK
-Chief Instructor Okinawa Budo Kenkyukai - OKIBUKAI
-Chief Instructor Okinawa Kobayashi Shorinryu Karate Kobudo - Puerto Rico Shorinryu
Kelly is a freelance dancer and teacher in Portland, Oregon, with a passion for cultivating community, making dance accessible for all, and helping adults find joy in movement. Ballet is an art form that has been traditionally very exclusive and she wants to change that. Her goal is to bring the joy of ballet to everyone in an environment where underrepresented communities feel safe and valued.

Leina'ala started dancing at an early age at her local community center. She fell in love with Tap and has not looked back since. In efforts to get more active she pursued her love of dance into teaching dance fitness with U-Jam Fitness in 2015 and recently GROOV3 She danced hula for ten years under her na Kumu(teachers), 'Aukai La'amaikahiki and Ka'aumoana Ahina. Dance has always been important to me as a way to connect with others and build relationships. Through the power of dance, we are connecting, supporting and creating classroom community which can go far beyond the walls of a dance studio.
I have been dancing for 20+ years in various styles of dance including Ballet, Jazz, Tap, Belly dance, Hip Hop, Salsa, Tango, and Cha Cha. I love to share my passion for dance with others and Zumba is a fun way to get all styles and people involved to free themselves!
Twerk N Fit was created by Master Twerker Renise 'Nisi' Harrel to bring together both twerk culture and fitness. What manifested was a fun, sassy, and fat burning workout that leaves members feeling toned, confident, and empowered.
My name is Hobbs Waters, and I am a local twelve year old artist. I primarily create pen and ink illustrations, abstract paintings, meaning large scale mixed-media on canvas, and fluid art. My art has been exhibited at the Basic Space Gallery, the Portland'5 Art Center, Green Haus Gallery + Boutique, Madrona Hill Cafe, The Q Center, and many more. I am also a cellist and trumpeter at Ethos Music Center. As a dancer, I train and perform with Classical Ballet Academy located in Portland, OR. I dance 20+ hours a week in their pre-professional category, where I primarily train in ballet. I also train in contemporary dance, modern technique, jazz and fusion dance. I have very specific goals and have been working toward them with an aggressive passion the last few years. I want to become a professional male ballet dancer at the The Royal Ballet Theater and would like to see my art exhibited in a museum similar to the Broad Museum in LA.